THE DOUBLE TAKE // WASH-WEAR
A VERSATILE, WATER RESISTANT, TWO-SIDED POUCH DESIGNED FOR EVERYDAY ORGANIZATION WHERE BOTH SIDES MATTER.
SUSTAINABLY MADE AND MANUFACTURED
100% RECYCLED TECHNILUXE™- DERIVED FROM OCEAN WASTE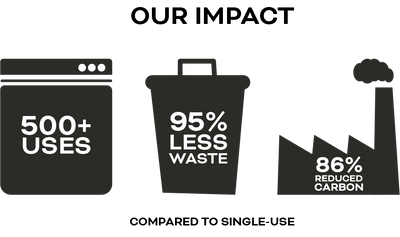 FEATURES

• 100% Exclusive Techniluxe™ made from recycled ocean plastic
• Water Resistant
• Chunky recycled zipppers
• Lightweight
• Machine wash, drip dry or hand wash



DIMENSIONS

Each pouch side is 9.25 in x 9.25 in
A versatile, two-sided pouch designed for your everyday travel adventures. Featuring chunky neon zippers, this lightweight and unforgettable pouch is just what you need as you replace single-use baggies.
From clean and dirty laundry, to damp and dry after a day at the beach or an hour at the gym, this is the ultimate organizer to keep your personal treasures safe and sound. Use it on repeat as an easy way to replace plastic alternatives.
WASH  & WEAR allows you to decide what goes in. From clean and dirty laundry to damp clothes after a good sweat meet your new travel essential and say goodbye to ziplocks and plastic bags as you use and re-use your DOUBLE-TAKE.
COLOR: MARINE BLUE & NAVY WITH COBALT BLUE ZIPPERS