THE BIG SUR // STINGRAY
THE MODERN FOLDAWAY SHOPPING BAG & SO MUCH MORE
MADE FROM 100% OCEAN PLASTIC & DONATING TO CHARITY PARTNER, OCEANIC GLOBAL WITH EACH PURCHASE.

WATER RESISTANT,
EASY FOLD INTO POUCH
DESIGNED FOR USE & RE-USE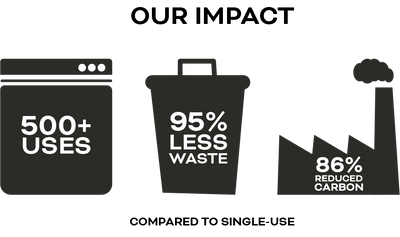 FEATURES

Made of Lightweight, 100% recycled ocean plastic. 25 bottles were diverted to make this bag.
Quick dry
Water resistant
Holds up to 100 lbs/ 18 Liters
Drawstring closure
Carabiner clip for extra portability
Designed in New York
DIMENSIONS

21 in x 11.5 in x 5 in
12 in handle drop
6 in x 6 in Pouch

* The Big Sur is 35% larger than the Little Sur in length, handle length and capacity.
MONOGRAM

2 CHAR MAX: A-Z; 0-9, + $ % @ # + = ( ) ! ? . , - &

PLEASE CAREFULLY SELECT YOUR LETTERS AND THREAD COLORS. ONCE THE ORDER IS PLACED WE'RE UNABLE TO MAKE ANY CHANGES.

MONOGRAMMED BAGS WILL BE PACKED INTO THEIR POUCH
The Sur is a versatile, rugged and water-resistant horizontal tote bag for unlimited end uses. Its foldaway design makes it portable and easy to pack and take everywhere.
At the grocery you're putting your wet goods and produce right in, no need for plastic bags. Toss your post-gym sweaty stuff right in or a laptop when you're moving between meetings.
Compared to The Little Sur, straps are longer and designed to go over the shoulder (12 in.) and the length is 4 inches longer while capacity is 35% more.  The Big Sur holds the same contents as two very full plastic bags at the market.
Made from 100% recycled, heavyweight, matte ripstop nylon, The Sur dries quickly and 
goes right in the washing machine or wipes clean.
Each features our signature drawstring closure and WAVE graphic which is synonymous with our brand efforts to keep our Oceans and coastlines free of plastic waste.