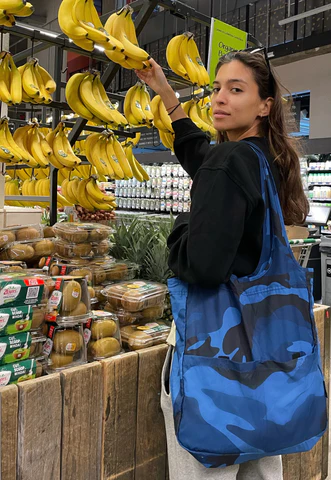 More than an activist, Marina Testino gets our vote as the quintessential change-maker in sustainable fashion today. When we were developing BYBBA, we knew Marina was perfectly aligned with our mission around use and re-use. She's someone who embodies the spirit of conscious consumerism without compromising style or quality. We're honored to introduce our blog, CARRIED AWAY, with an interview with Marina, conducted during NYFW, as the kick-off to our ongoing series that will highlight people who uphold, uncover and inspire new ways of Conscious Carrying.  

BYBBA: Tell us about #OneDresstoImpress and how you plan to integrate accessories. Are you keeping these to a minimum too?
MT: #OneDresstoImpress is a campaign aiming to raise awareness around conscious consumerism and women's empowerment. In order to become more sustainable, we shall start with our closets and accessories. That is why I will try to keep the accessories to the bare minimum for two main reasons: focus the attention on the suit as the carrier of the campaign's message and promote creativity while we decide our outfits, by repeating them, also with our accessories!
BYBBA: As someone whose entire platform revolves around conscious consumerism, tell us how you carry—what's in your bag and how do you make your bag choices?
MT: When I buy a bag I make sure it has multiple uses but also space to fit everything and especially that it's comfortable and goes with different outfits. There's nothing worse than a pretty bag that doesn't even fit your phone!

BYBBA: What's the one thing you never leave home without each day in your bag?
MT: The choice starts way before filling up the bag: I try to carry as few things as possible (I move a lot!), I never forget my mask and a reusable bottle of water and an additional reusable bag in case of a last-minute supermarket run. Of course, my phone also comes with me. I also take a roll-on perfume, lipstick and lip balm.

BYBBA: What's your definition of Conscious Carrying?
MT: The way I see it is: Consciousness starts with knowledge so in order to "carry consciously", we should first know what to look for when we're buying and educate ourselves every day. Conscious Carrying might as well be considered a way of life, at least it is for me.